Are you tired of watching your suet feeder emptied in a matter of hours by just a few larger birds leaving just a few scraps for the smaller birds?
Starlings are a well-known culprit for gobbling up all the goodies at your bird feeder, and suet is one of their favorites.
So, just how do you keep Starlings away from your suet feeder? This article will take a look at several "starling proof" designs and provide some tips for keeping these pests off!
The Best Starling Proof Suet Feeders
We've compared the most popular suet feeders that make it hard for starlings and other bully birds to clean out the feeders. In each review, we've highlighted their unique characteristics, features, and usage tips.
We choose a variety of materials and styles, so you are sure to find a design that will look great in your yard.
1 – Recycled Plastic Poly-Lumber Upside-Down Suet Feeder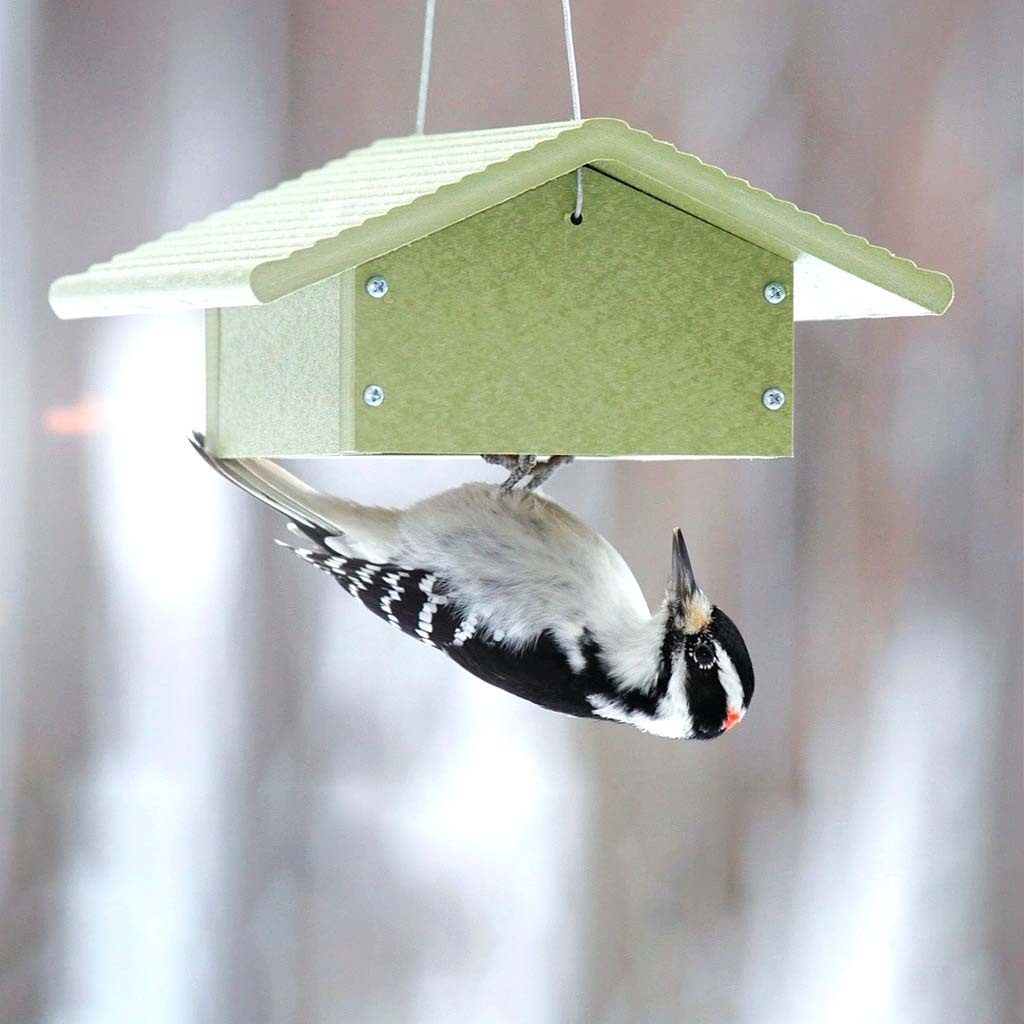 About the Feeder
Manufacturer: Plow & Hearth
Material: Poly-lumber
Size: 7¾"L x 8¾"W x 4″H
Holds 1 or 2 suet cakes
This suet feeder is the perfect foil for Starlings since they don't like to feed upside down.
The poly-lumber material is weather-resistant, durable, and easy to clean. Large enough to hold one or two cakes, you won't need to fill it as often. That is now that we've made it harder for the greedier birds to gobble up all the suet.
The mesh bottom design of the bird feeder provides easy access to the suet while keeping it sheltered from the weather. A favorite of clinging birds, you can expect finches, bluebirds, jays, woodpeckers, and chickadees to visit.
Made in the USA with an attached cable for hanging, the Poly-Lumber Upside-Down Suet Feeder from Plow & Hearth is a great choice.
What We Like:
Colorful
Made from long-lasting poly lumber
Upside down design is proven to be effective
If you are looking for a pretty suet feeder that will look great in your garden, pick up the Poly-Lumber Upside-Down Suet Feeder by Plow and Hearth.
---
2 – Nature's Way Bird Products CWF2 Cedar Suet Upside-Down Bird Feeder
Bird Feeder Details
Manufacturer: Natures Way Bird Products
Material: Cedar Wood
Size: 8.5 x 8.5 x 4.13 inches
Weight: 15.5 ounces
Smaller in size than our previous cedar feeder, the Nature's Way Upside Down Bird Feeder holds a single suet cake and measures 8.5 inches across. Weighing just a little over a pound, it is easy to hang with the attached steel cable.
Woodpeckers, nuthatches, chickadees, titmice, and other clinging songbirds love visiting the suet feeder.
What We Like
Attractive cedarwood feeder
Made by a trusted brand in the industry
Easy to fill, lift up roof
If you want a smaller wooden suet feeder made from a trusted brand, check out the Nature's Way Cedar Suet Upside-Down Bird Feeder.
---
3 – Songbird Essentials Suet Saver Suet Bird Feeder
About the birdfeeder
Manufacturer: Songbird Essentials
Material: Plastic & Metal
Weight: .45 pounds
Dimensions: 7.5 x 5.5 x 2.5 inches
Holds 1 suet cake
A simple but effective way to make your suet last a long time. The Songbird Essentials Suet Saver is an innovative product designed to make sure even those pesky large birds don't eat all of our delicious treats.
Simply slip this plastic sleeve over your suet cake to protect it from the feisty starlings forcing them to cling onto the bottom of the cage rather than eating straight out of their feeder. Enjoy watching songbirds and woodpeckers return for another feast with plenty to share.
It may take the birds a little while to figure this bird feeder out, but once they'll keep coming back for more.
What We Like
It helps suet to last longer
Simple but effective design in as a starling deterrant
Check the lowest price on the Songbird Essentials Suet Saver at Amazon.
---
4 – Cedar Bottom Suet Bird Feeder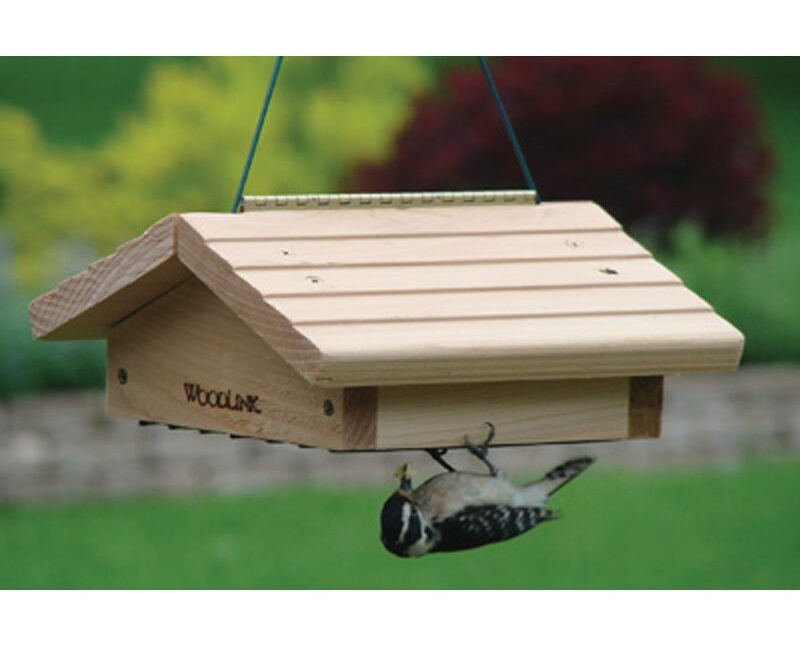 About the Feeder
Manufacturer: Woodlink
Material: Cedar
Size: 4" H x 9" W x 9.5" D
Weight: 1.65 lb.
Holds 2 Suet Cakes
Cedar is a popular choice for wooden bird feeders since it can withstand a range of weather conditions without warping or decaying as many other wood products.
The 6″ x 8″ metal grid is mounted on the bottom and holds two high-energy suet cakes attracting woodpeckers, chickadees, and nuthatches to come and feed!
The upside-down design discourages starlings and blackbirds from competing for the suet since they cannot hang upside-down to eat.
What We Like
Woodlink is a well-known brand for quality bird feeders
Cedar holds up well to all weather conditions
Angeled Roof keeps suet dry
If you're looking for a suet bird feeder made from fragrant cedarwood, then the Woodlink Bottom Suet Bird Feeder may be perfect for you.
---
5 – Pennington, Metal, Seed Cake, and Suet Woodpecker Wild Bird Feeder
Bird Feeder Details
Manufacturer: Central Garden and Pet
Material: Weather resistant metal
Size: 9″x10″X8.5″
Weight: 2.4 lb
Holds 2 Suet Cakes
The Pennington Metal Suet Feeder is a unique and innovative feeder for clinging birds. It holds up to 2 large seed or suet cakes, which are easily refilled with the lifting lid at the top of this feeder.
The bird feeder is shaped like a tiny house with windows on either side so you can view the remaining supply of suet. When the bottom cake is finished, the top one moves down in its place.
Access is from the bottom of the feeder to deter nuisance birds and squirrels from eating your seed cake or suet cake by making it difficult for them to get access to these goodies without getting on their bellies!
Additionally, this powder-coated metal birdfeeder will hold up in any weather conditions so that you can feel confident about leaving it outside all year long.
Which type of wild bird does this metal birdfeed offer-holder attract? Woodpeckers, Chickadees, Nuthatches, and Finches flock to its feeding station.
What We Like
Grey and White Modern Design
Windows on either side let you know when refills are needed
Works well for small clinging birds
Difficult for squirrels and starlings to use
Check the lowest price on the Pennington Metal Suet Feeder at Walmart.
---
What Type of Feeders Are Better For Keeping the Starlings Out
The best way to prevent starlings from eating all the suet is to use an inverted feeding station that only allows access through the bottom to keep these pesky birds away.
Cage-style feeders with an inch or more distance to the suet can also help to allow the smaller birds to enjoy their meal without interruption. However, while they make it more difficult for starlings to get the whole cake, they will still be able to reach the suet, it will just take them longer.
Tube feeders are another option for dissuading Starlings. Since the ports are relatively small, they have a more difficult time holding on.
What Food Will Starlings Not Eat?
Starlings have a softer beak than many other seed-eating birds. The harder seeds can be a problem for them to open. While the Starlings will gobble down the black oil sunflower seeds, the black-striped variety has a much harder shell, so they don't like these as much. Shelled peanuts can also be difficult for the Starlings to open.
In Summary
Starlings are some of the most common birds in North America. If you see them at your suet feeder, there is a good chance they are not welcome guests.
A starling-proof birdfeeder is one way to discourage these pests from visiting your yard and taking food away from other more desirable species like cardinals or woodpeckers.
Get a new suet feeder today and leave more food for the other birds!
Like It? Pin It!