Choosing the best bird feeders for finches doesn't have to be a difficult decision. When looking at the wide variety of feeders available, it can be easy to get overwhelmed.
Take the time to learn more about these interesting and popular birds. You can then narrow down the choices to find the best finch bird feeder for your yard.
Fascinating Finches
Bird lovers have delighted in the show put on by these small but mighty creatures for centuries. These lovely bursts of color and song were often caged for the amusement of wealthy aristocrats. Aviaries were full of chattering finches flitting from one branch to another.
While some finches are still kept caged, most roam their natural habitat in the wild – as well as visit well-placed finch bird feeders in backyards.
Finches are common throughout most of the United States and southern Canada. They spend the warmer months in the northern climates and migrate south in the late fall and winter. It is not uncommon for some birds to overwinter in cooler areas with a lot of available food sources.
Most finches are in the 5 to 6-inch length range, but they come in a wide variety of colors depending on the type. If you live in the US, don't miss our list of the five most common types of finch to see which ones may be visiting your backyard.
The American Goldfinch with its bright yellow, white, and black plumage is one of the most recognizable. Others such as the Purple Finch, House Finch (orange, red, and yellow), Plum Headed, and Zebra Finch all add their own unique coloring to the mix.
The zebra finch has some of the most striking coloring combinations of the Finch species and is found most commonly in central Australia
The Nine Best Finch Bird Feeders in 2022
The most popular feeders for finches are the mesh feeder, sock feeder, and tube feeder. Finch feeders will also come in a hopper style, but they don't seem to attract these birds as well as the other styles.
Click the links to each item or use the Read Our Review button to jump to each individual review section below and learn more about each item including a summary of customer feedback for each.
If you buy an item via links on this page, we may earn a commission.
---
More About Our Favorite Bird Feeder For Finches
We've researched all of our favorite finch feeders below to find out what customers love about each and if there are any problems to watch out for.
Mesh Feeders – Great for Clinging Birds
1. Acrylic and Stainless Steel Hanging Nyjer Bird Feeder
When it comes to holding a lot of seed, you can't beat the acrylic & stainless steel Nyjer Seed Feeder. This acrylic top and bottom design features a wavy flower-like shape that will keep the rain out of your seed.
The sturdy stainless steel mesh is ideal for birds to cling with little effort while still providing easy access to the seed. Popular with not only finches but also titmice, siskins, and woodpeckers.
The 3-quart capacity means plenty of feeding room for a variety of small songbirds! And it's proudly made in the USA.
What Customers Love
Well built, good construction
Attractive, looks pretty hanging in the yard
If you want a Nyjer feeder with a little style and flair, the Red Acrylic and metal hanging feeder from Plow & Hearth is a beautiful way to feed the birds in your yard.
2. Giant Combo All-Metal Screen Bird Feeder
The Giant Combo All-Metal Bird Feeder is the perfect mix of style and functionality. The extra-large metal screen can hold up to 11 pounds of seed.
Not only does a screened surface attract clinging birds, but the perches provide a resting area to bring in more bird activity just waiting for their next meal.
This all-metal design has two large feeding compartments that make filling quick and easy. There is also a diverter that moves seed from one area to the next and drainage holes on the bottom to keep the seed dry.
What Customers Love
Largest Size of the feeders on the list
Stable feeding surface
High quality, beautiful design
If you have a lot of finches in your backyard, the larger size of this bird feeder will cut down on the amount of time you spend filling the feeder.
What we really like best though is the quality. Many sock feeders are a little flimsy. That is not the case here. Made from all metal parts, this is a very solidly built bird feeder.
So if you want an elegant way to feed a larger number of birds, the Plow & Hearth's Giant screen feeder is a good fit.
3. Stokes Little Bit Finch Feeder
A wide-mouth on this hard-plastic mesh feeder makes it easy to clean and fill.
The bright yellow color attracts the birds while the sturdy, rust-proof material holds up to the weather, wear, and tear. It is a simple, pleasing design that works well with any decor and in any location.
Features Customer Love
Easily attracts goldfinches
Twist off top making filling it easy
Any Drawbacks?
Smaller size than a few others in our list. This is not a bad thing. When feeder birds Nyjer seed, if it stays in feeder too long, the seed can get compacted and may rot. It's better to size the feeder to the number of birds in your yard, so you fill and refresh the seed on a regular basis.
If you want a cute, smaller-sized Nyjer seed feeder, the Stokes Little Bit Feeder is a good choice.
4. Red Rock Twin Feeder
With a unique two-chamber design, this feeder from Duncraft allows you to offer two kinds of seed to your feathered friends.
Drainage holes in the bottom along with a built-in seed diverter, help keep the seed fresh and constantly moving. With perches, a screen, and a tray, there are multiple feeding options offered to a variety of birds along with the finches.
What Do We Like?
Holds both Nyjer and standard seed
Red color stands out in backyard
Tube Feeders – Easy to Fill and Keep Seed Fresh
5. Red Spiral Finch Feeder
With multiple seed ports on this fun and attractive feeder, you'll have finches covering it as soon as you fill it up and hang it.
What makes this feeder interesting is the finches like to run up and down the spirals to get access to a different port (or to make room for their friends).
The spirals are made from aluminum and stainless steel. Both the top and bottom are easy to remove for cleaning and refilling and seal tightly to help deter squirrels from cleaning it out.
One and a half pounds of seed will fill the feeder.
What Customers Love
Fun to watch the little birds run up and down the spirals
Squirrels and larger birds generally eat only the spilled seed on the ground. They struggle to use the feeder itself
Attracts a lot of finches
Any Drawbacks?
If you love watching the birds and like a good laugh, check out the Red Spiral Feeder on Plow & Hearth.
6. Finch's Favorite 3-Tube Feeder
24 finches can eat at one time at this triple-tubed feeder. This simple tube feeder holds up to 1 pound of seed in each of the three plastic tubes with built-in perches. 36 feeding ports allow the birds to choose how they want to feed.
What Customers Love
It's amazing to watch so many birds eating at once! Normally then have to take turns, but the style of this finch feeder let's the whole family enjoy a meal together!
Easy to fill
Can be a focal point in the yard
Any Drawbacks?
Wind blew off the cover on one of the tubes. To avoid this, simply make sure the covers are secure before hanging the feeder.
Easy to clean and easy to refill, this style of feeder will easily live up to the title of "finch's favorite" as you can tell from the video below.
If you are serious about feeding the finches in your yard, the 3 Tube Finch Feeder from Plow & Hearth is a sure bet.
7. Yankee Tipper Bird Feeder
Tube feeders are a top pick among bird watchers. One of the main attractions of this particular model is the weight-sensitive tray that collapses when troublesome squirrels hop on board.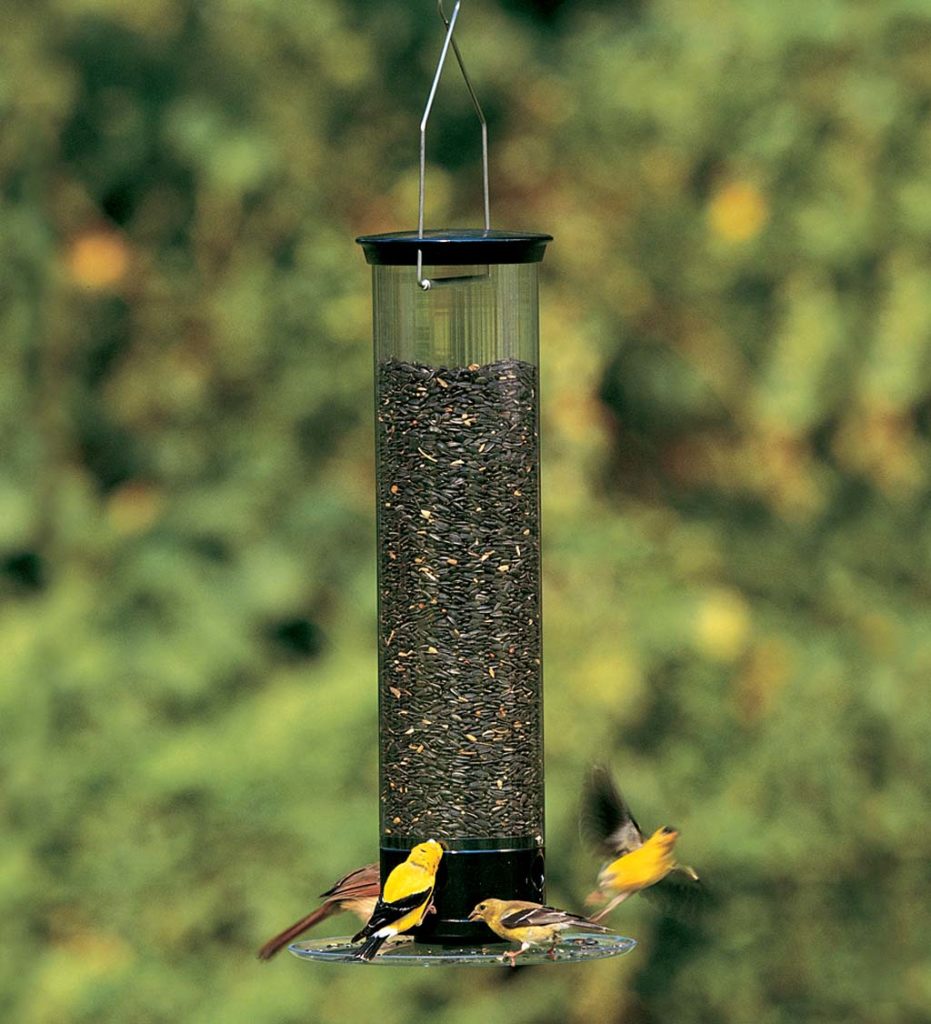 The Yankee Tipper Bird Feeder from Plow & Hearth is made of steel and powder-coated metal. The wire will not rust, making this a long-term investment in feeding your feathered friends. It has an interior baffle design that allows the seed to flow freely out of the four access ports for optimum positioning while you watch from afar.
Its 21″ tube ensures no squirrel can reach the top. Combined with the weighted bottom, this is another great choice if squirrels are a problem in your yard.
What Customers Love
Does a good job at keeping the squirrels away
Holds a lot of seed
Quality construction and clean lines
Any Drawbacks?
If you're looking for a simple modern design that is very effective at keeping the squirrels from eating all your seed, check out the Yankee Tipper Tube Feeder.
Sock Feeders – A Favorite of Finches
8. Kaytee Finch Station 2
This simple, but well-designed feeder is a great pick for anyone who wants a large number of finches to be able to eat at the same time.
The two sock bags will hold over 7 pounds of seed. Designed for thistle seed, it allows the finches to cling to the bag while eating. It also makes it easy for them to eat upside down which seems to be a favorite dining position for finches.
A domed, plastic shield or baffle, over the top, helps keep the rain off of the seed.
What Customer Like
Reasonably Priced
Holds a large amount of seed
Comes with a replacement sock
Any Drawbacks?
Holes in the sock are bigger than some other brands causing spillage.
If the sock rips, the seed will also spill out on the ground. Note: This can happen with any of the sock feeders depending on the birds in your yard and how aggressively they feed.
If you want to try out feeding finches Nyjer seed this is a good option to start. The price makes it a small investment and the dome keeps the seed fresher and looks a little nicer in the yard.
You can buy the Kaytee Finch Station 2 at Chewy.
9. 25 Ounce Super Finch Sock Feeder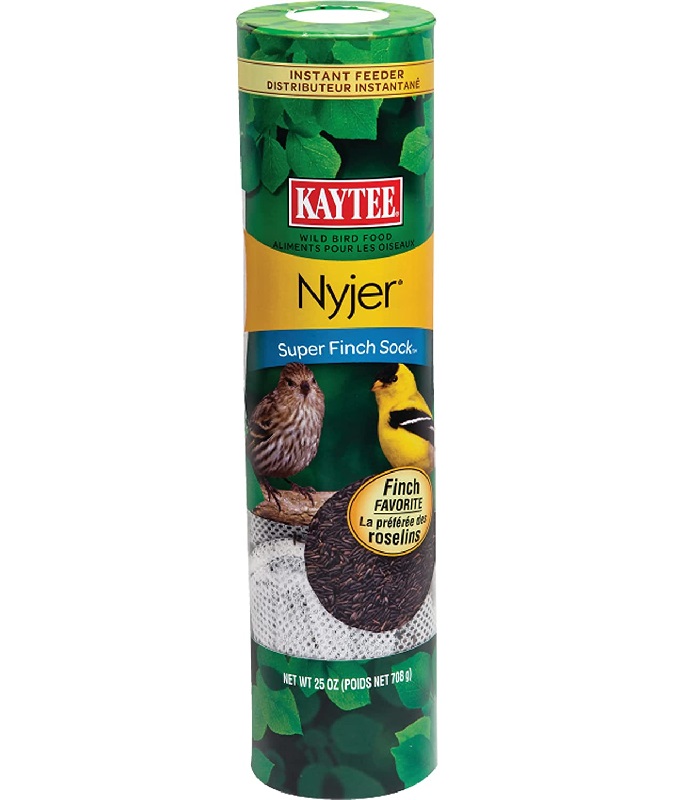 The bigger capacity of this sock feeder makes it an economical choice. It is an instant feeder in that it can be hung up and presented to the birds as soon as you get it. Finches and other small birds such as siskins are immediately attracted to it. This sock feeder is also easy to refill.
What Customers Love
Prefilled with seed
Price is very reasonable
Any Drawbacks?
Depending how long the feed has been in the sock, it may not be fresh and the birds won't eat it. In this case, you'll need to replace the seed before the birds come to the feeder.
If you want a simple sock feeder that you can just hang up and start feeding the birds, the Kaytee Super Sock is a good budget choice to get started.
What Type of Food Do Finches Eat
The natural diet of most finches is grain and seed. In the wild, finches cover a large area searching for various types of this food.
They feed on a wide variety of flowers, grasses, and weeds. It is not uncommon for them to eat the small buds off of trees and bushes. Tiny insects are also eaten during the summer months, but the staples of a finch diet are always grains and seeds.
When filling finch feeders to attract these birds to your backyard, your choices aren't quite as unlimited. You will come across many mixtures and blends designed to attract either a single species or a wide range of birds.
Unfortunately, many of the mixes have ingredients that appeal more to the squirrels than they do to the birds, especially finches. There may be a lot of waste with these blends as the birds will toss unwanted seeds to the ground.
If your goal is to attract finches, there are two favorites that will get and keep their attention – thistle (Nyjer) seed and black oil sunflower seeds.
Thistle (Nyjer) Seed
Seeds from milk thistle or the similar Nyjer plants are easily the most favorite food of finches – in the wild or from a bird feeder. These seeds are high fat and packed full of protein for that extra energy these little birds require.
Thistle is best used in actual finch feeders as the holes and perches are smaller to keep larger birds from eating all of the seed.
Black Oil Sunflower Seed
This energy-packed seed is also a great choice for finches. The thinner shells allow for easier consumption by the smaller birds. Feeding the sunflower seeds in a hopper, tray, or tube is the easiest way to offer them.
Be warned that black oil sunflower seeds are a favorite of most birds. You will have a lot of visitors to feeders that aren't designed solely for the finches.
How to Hang Your Feeder so the Birds Will Enjoy It
Position your hanging feeder out of strong winds to reduce the swaying of the feeder. Be sure it is not in a high-traffic area where it will get bumped around. During violent, stormy weather, it may be advisable to take it down temporarily.
Place feeders either 3 feet away from windows or over 25 feet away. The area in between is the danger zone for birds building up momentum and flying into the glass.
Make sure the feeder is securely attached to its support. This can be a branch, gutter, hook, or pole as long as it is sturdy and able to hold the weight of a full feeder. Small chains and S-hooks are a good way to hang them. A rope or cord can also be used as long as there is no give or elasticity.
Hang finch feeders in areas with light shade and nearby cover. Aside from making it hard to view birds, full sun will also damage your feeder over time. Ideally, the feeder will be positioned at least 5-6 feet off the ground.
Do regular cleaning and maintenance on your hanging feeder. Inspect the cords or wires that support it for damage. Clean the feeder at least every few weeks to ensure it is not harboring any harmful bacteria or disease.
Installing a baffle over the top of your feeder can help keep the seed dry as well as deter some pests. Some feeders come with one already attached.
It's Time to Get Started Feeding Your Finches
Now that you've learned how to choose the best bird feeder for finches, it's time to get started. You might have to experiment with placement and style to find which feeder performs best in your backyard, but hopefully, you've found a favorite in our list.
It will only take a few days or in some cases, a few hours for your new friends to find the bird buffet. In return for a few well-placed feeders full of seed, the finches will provide you with hours of enjoyment and entertainment.
Like It? Pin It!