Cardinals love the sunflower seeds in our birdfeeders, but unfortunately, so do the squirrels. We share the best squirrel-proof feeders sized for cardinals that protect your birdfeeder from those squirrely seed thieves.
The 6 Best Squirrel Proof Cardinal Bird Feeders For 2022
Below are six of our favorite squirrel-proof bird feeders your cardinals will love.
Click the links to each item or use the Read Our Review button to jump to each individual review section below and learn more about each item including a summary of customer feedback for each.
If you buy an item via links on this page, we may earn a commission.
More About The Top Cardinal Feeders with Squirrel Prevention Features
We've researched all of our favorite cardinal feeders to find out what customers love about each and if there are any problems to watch out for. We also took a good look at just how effective each feeder was at keeping out the squirrels.
All of these bird feeders get great reviews, but some may work better than others depending on your backyard feeding style and the other types of birds or animals in the area.
1. Jagunda Squirrel Proof Feeder
The Jagunda Squirrel Proof Birdfeeder can hold large amounts of seed, up to 6 pounds, and is designed to prevent squirrels from getting to the feeder.
What I really like about this feeder is it comes with a 5 foot, 8-inch steel pole that is designed to keep the squirrels from climbing up to reach the seed. You normally have to buy the pole separately and hanging feeders in a tree will always make them a target for squirrels.
The auger at the base of the pole secures it to the ground for stability which is very important. Cardinals can be a little timid, so if the feeder shakes or wobbles, they may steer clear.
What makes this feeder a good choice for cardinals is the feeder tray design. It is 18.5 inches wide and cardinals prefer a larger flat area when feeding, instead of a small perch. This broad base also prevents the squirrels from getting a good grip to climb up.
An added feature of this feeder is the rotating port regulator that allows you to control the amount of seed released. To complete the design is the dome on top to prevent the seed from getting wet during the rain.
When choosing a location, place the feeder at least 8 feet away from nearby trees or structures to prevent squirrels from jumping onto the dome. This is the best way to keep our furry friends from eating your seed.
What are Customers Saying?
This is one of the first bird feeders that was actually squirrel-proof
The wide perching tray makes it a favorite of cardinals
The slides on the seed ports do a great job of dispensing seed slowly, so if a squirrel was able to jump on top of the feeder, they still can't empty it out.
The quality was great and the included stand is very study.
Are There Any Drawbacks?
Some customers wished the dome was a litter wider. During windy storms the seed may still get wet.
Overall, this is one of the best designs that caters to the way cardinals like to eat with the wide tray AND keeps the squirrels away. It is also one of the few bird feeders that includes a mounting pole.
You can buy this bird feeder at Plow & Hearth ==>> The Jagunda Squirrel Proof Birdfeeder.
2. Perky-Pet Squirrel-Be-Gone II Feeder Home with Chimney
This attractive house-shaped bird feeder not only looks cute in the yard but is one of the sturdiest designs on our list. The all-metal construction keeps squirrels and other critters from chewing on the bird feeder to get access to the seed.
The front porch of the house contains the seed ports and is weight activated, shutting off access to the seed when larger animals try to sneak a meal. You can control the amount of weight sensitivity with the notches on the left-hand side of the feeder. Set it lighter to also keep larger birds away.
What Are Customers Saying?
Great looking bird feeder, looks really nice in the backyard
Cardinals love it when you fill it with sunflower seed, dried berries or nuts
Also attracts the smaller songbirds
Are There Any Drawbacks?
A few customers thought the weight mechanism was scaring away the cardinals. If this happens you should adjust the sensitivity of the perch, so it doesn't move as easily.
The Perky-Pet Squirrel-Be-Gone is a good choice if you need a tough bird feeder to keep the squirrel and raccoons from chewing.
3. Squirrel Buster Legacy Squirrel-Proof Bird Feeder
The Squirrel Buster Legacy is the largest of three sizes in this series and holds over 2.5 pounds of birdseed. Also available are the standard and mini sizes for smaller yards. An adjustable spring mechanism lets you control the size of the birds that you want to feed (as well as keeping out the squirrels).
The design of the seed ports attracts both clinging and perching birds. Clinging birds can feed from the middle of the feeder. Where perching birds like cardinals can land on the metal perches that extend from each seed port.
This feeder works equally well to attract cardinals, finches, nuthatches, woodpeckers, and chickadees.
What Are Customers Saying?
Attracts a large number of birds.
The weight mechanism works great to keep the larger birds & animals out
Removeable perches are a nice feature
Well made and last a long time.
Are There Any Drawbacks?
A few reviews were mixed about keeping the squirrels away. Be sure you don't install it near trees or buildings where the squirrels can jump on to the feeder. They may hang upside down from the tube and steal a quick meal.
The Squirrel Buster Legacy is a great choice if you want a single feeder that works equally well for clinging and perching birds. Just mount it at a safe distance from trees and buildings to prevent squirrels from targeting the feeder. But overall, customers are delighted at the quality and the number of birds it attracts.
4. Large Pest Proof Bird Feeder With Weight Controlled Feeding Ports
The PestOff Sunflower Mixed Seed Pest Proof Bird Feeder is a great way to attract and feed songbirds without the hassle of pesky intruders.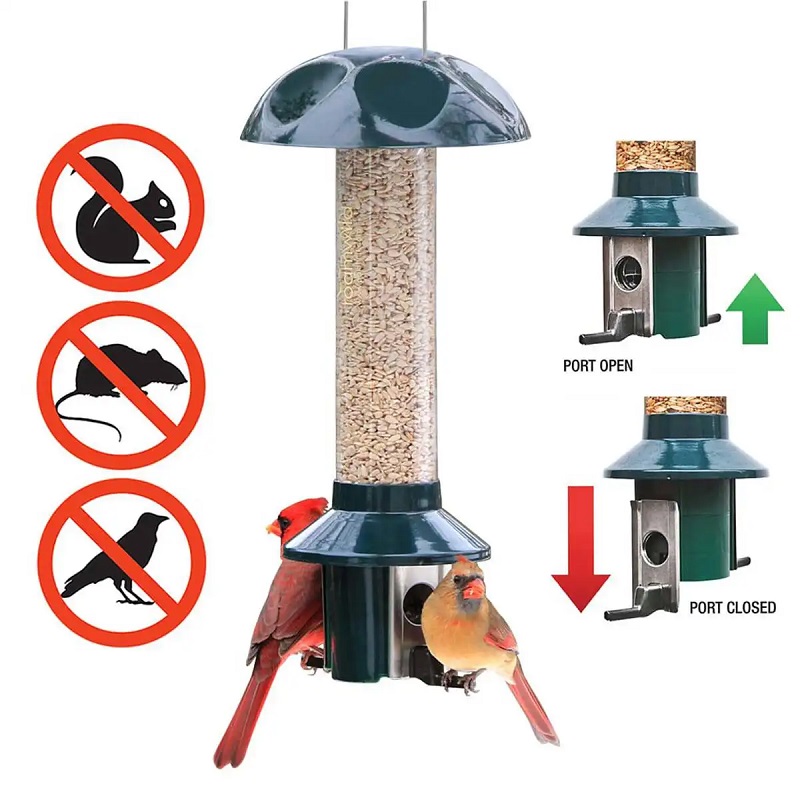 The feeding ports keep out more than just squirrels too. It will also prevent chipmunks, mice, or large nuisance birds from swooping down and eating all the seed.
The way this feeder works is with weight-sensitive feeding ports, so when more weight is applied, the hatch snaps shut, cutting off access to the feed. Once the larger animal leaves, the tension is reduced opening the feeder back up for your favorite birds.
This birdfeeder holds up to 3 pounds worth of mixed seed and boasts a wider lip on top to make it easy to fill.
What are Customers Saying?
Does a great job at keeping the squirrels away
Strong, easy to use design
Great for mixed seed
Song birds love this bird feeder
Are There Any Drawbacks?
There are only two feeding ports, so if there is alot of competition in your yard, the birds will have to take turns
The perches are a little short for cardinals, and while they will still visit, it may not be their favorite feeder.
You can find this Pest Proof Sunflower Bird Feeder at Plow & Hearth.
---
5. The Yankee Flipper
Droll Yankees presents a moderately high-tech solution for foraging squirrels.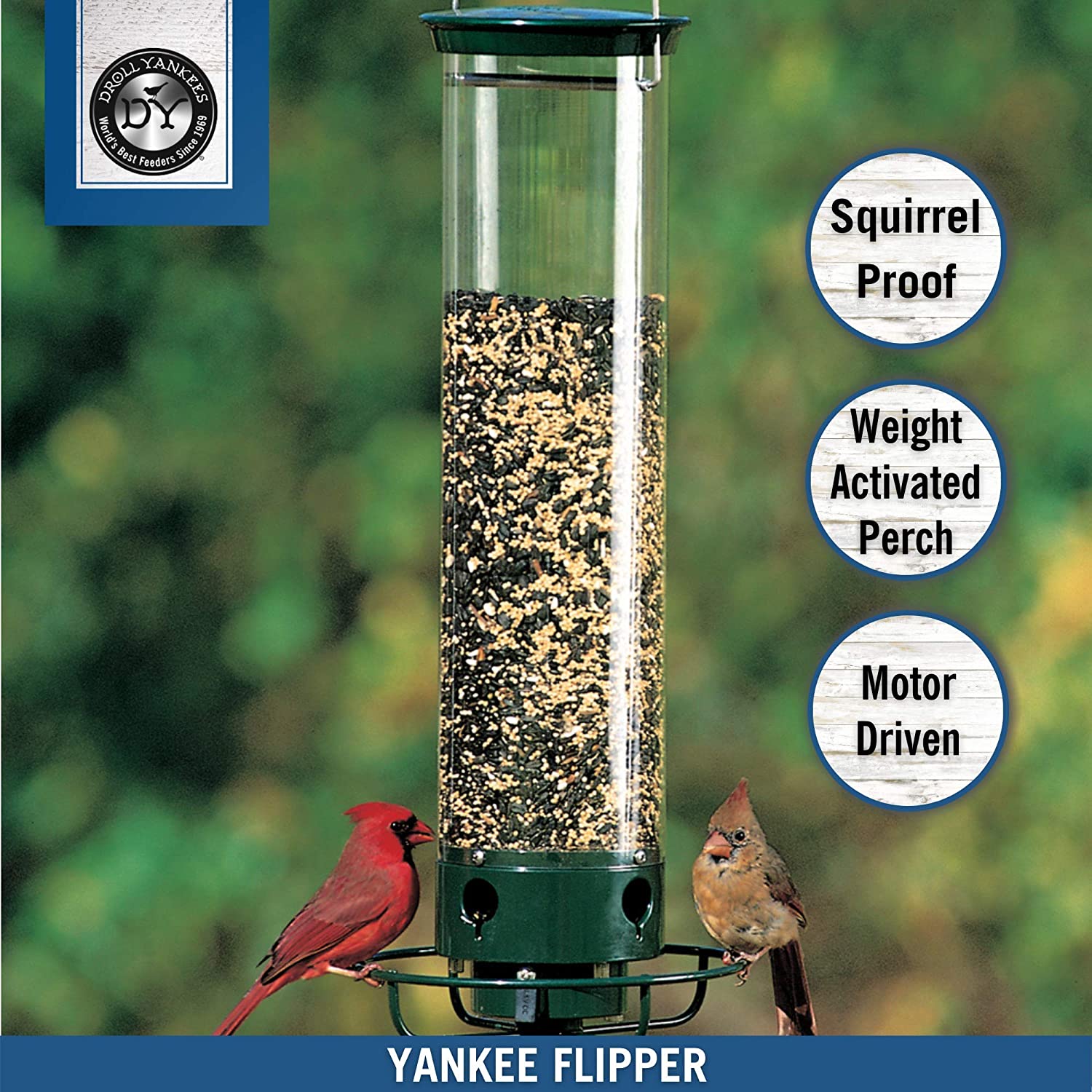 It looks like an ordinary tube feeder, and birds can happily enjoy its bounty without interruption. But should a squirrel try to climb onto it, a little motor switches on causing the feeder to spin. The squirrels are then flipped off the feeder.
In addition to modern technology, this feeder also has a large capacity, holding up to 5 pounds of birdseed. The metal base and cap are sturdy enough to withstand
What are Customers Saying?
Does an excellent job of scaring away the squirrels. Most people report that after a few tries, the squirrels steer clear of this feeder.
They like the fact that it holds such a large amount of bird seed.
Are There Any Drawbacks?
Some customers had a problem with the battery life. It works great the first few times you charge it, but over time the charge doesn't hold as long. So at some point it becomes easier to use it as a regular bird feeder.
The Droll Yankees Flipper is a fun springtime gift for a bird fancier with a squirrel problem and a sense of humor.
6. Hartsell Gilded Chalet Hopper Bird Feeder
The Perky-Pet Holly Berry Gilded Chalet features a circular perch that invites birds to feed from different directions. This large perch is what makes it attractive to cardinals.
Holding up to 2 pounds of seed this adorable feeder will blend right in with the natural elements of your yard. The holly berry patterned lid has a locking cap feature to prevent the squirrels from getting your seed.
What are Customers Saying?
A favorite feeder for the birds
Most purchased this feeder since they loved the design
Are There Any Drawbacks?
The only squirrel proof feature is the locking cap system at the top.
If you want the look of copper, but easy maintenance of plastic, the Perky-Pet Holly Berry Gilded Chalet is a great choice. For best results, mount this birdfeeder using a squirrel baffle on the pole.
Tricks to Keep the Squirrels and Other Predators Away
Do you love cardinals, but fret when the squirrels keep eating all the seed shortly after it's filled? Use these tips to keep the birdseed safe.
The feeders can be hung, or placed on a post. In both cases, take care to protect the feeder from neighborhood squirrels, cats, or other predators who might regard your bird feeder as a personal smorgasbord.
Squirrel Prevention
Squirrels love the same seeds, suet, peanut butter, and other treats that cardinals enjoy. If you have an active squirrel population they can quickly clean out a feeder, leaving little for your feathered neighbors.
Select sturdy feeders with small ports to help combat these scampering bandits. Some of the techniques used to slow down cats will somewhat delay a squirrel's approach to your feeder.
Squirrels, as you probably already know, are much better climbers than cats. With their clever, hand-like paws, and teeth that can gnaw into black walnuts, they can work their way into almost any feeder – given enough time.
One Way to Fool the Squirrels – Feed The Birds Like Chickens
Cardinals, like many other birds, tend to feed in the early morning and late evening. If you have the time, you can put out the feeder in the morning and bring it back in at night, or even just put it out for an hour or two at regular feeding times.
Your pensioners will quickly catch onto the routine, and flock to you when you bring out their treats. This gives the squirrels less time to work on your feeders, and your presence signals "food time" to the birds. It works much the same way as feeding farmyard poultry.
If physically removing and replacing a feeder is too much work, you can apply physics to the placement of your bird feeder. Add spinners a thin cord to suspend your bird feeder.
Create a conical top hat for hanging feeders, and bottom barriers for post feeders. Place post feeders well away from trees or buildings that will allow squirrels to leap onto the feeding station.
Keep The Cats From Climbing Up Your Feeders
Cats can also be a nuisance to your bird feeder. To keep the cats from climbing, place a tangle of wire or a downward-facing collar around a post-mounted feeder.
If you use a hanging feeder, place it well out on a high limb and let it depend too far to be reached by even the most ambitious feline.
FAQs on Feeding Your Cardinals
What kind of hanger should I use for a cardinal feeder?
A lightweight cable suspended from a lanyard makes a nice support for a bird feeder full of hungry birds and a load of seed.
What kinds of food should I put out for the Cardinals?
Cardinals love large seeds, such as sunflowers. They will also eat cracked nuts, peanut butter, and chunks of suet. There are also available commercial pellets designed for cardinals.
Are cardinals heavy enough to trigger squirrel preventions on mechanical feeders?
It depends on the feeder. In some cases, yes, they are heavy enough. Look for feeders that can have an adjustment to allow for the weight of several cardinals on the same feeder.
We Welcome the Cardinals
Cardinals are a bright, cheery guest at your bird feeder in any season. Their songs and bright coats are enough to make any day beautiful.
They are also useful visitors to your yard and garden. Cardinals eat at least 51 different kinds of beetles. They will also dine on cicadas, aphids, grasshoppers, slugs, and snails.
So, don't let the squirrels or other seed thieves prevent you from putting up a bird feeder to attract these delightful birds. Add a squirrel-proof bird feeder to your yard & save your birdseed for the cardinals!
Like It? Pin It!