Do you love watching the birds frolicking in your yard? Are you looking for a new garden bird feeder to hopefully attract more of your favorites?
Birds are more than fun to watch; they can serve as garden helpers. Many birds eat insects such as aphids and beetles which can damage our garden plants.
Some birds are also excellent pollinators. Proper pollination can yield bigger blooms and more produce. Because many birds gobble up weed seeds, they can help control unwanted plants.
The easiest way to attract birds to your garden is to hang a bird feeder! But you don't want to select just any feeder. First, you want to decide what birds you enjoy watching the most and select a bird feeder just for them.
Things To Consider When Buying A Bird Feeder
According to Lowes, birds are enticed by water to drink and bathe in and protected areas where they can nest and take cover. A birdbath or water feature will bring in a larger number of birds. Spreading a few birdhouses throughout your property will encourage families to stick around.
Bird Feeder Materials
Whatever type of bird feeder you choose should be easy to fill and clean. If it's too cumbersome to maintain, you're less likely to use it consistently. A dirty feeder can become clogged and impossible to use. If you let birdseed spoil inside the feeder, it could transmit diseases to the animals.
Plastic feeders are resistant to moisture. They hold up to rain, but the plastic can be damaged by UV rays. Keeping a plastic feeder out of the sun will prolong its life.
Wooden feeders may warp or rot when exposed to rain and snow. Weather-resistant cedar is more durable than many other types of wood. You can also paint or stain any wooden areas to make them last longer outdoors.
Copper bird feeders are attractive and often have a sculptural quality to them. A copper roof stands up to the elements and protects the food from water and sunlight. Copper won't rust, but it may acquire a greenish patina over time.
If you choose a metal bird feeder, make sure that it can withstand moisture. Copper won't rust when exposed to the elements, and it looks attractive.
Outdoor Bird Feeders: Construction
The way that a feeder is constructed not only designates its ease of use but also the types of birds that will visit. Feeders with larger access ports will attract larger birds. Some feeders are designed to dispense food when the bird is upside down. Birds that eat while sitting upright won't be tempted by these types of bird feeders.
You might think that it's more convenient to buy outdoor bird feeders that hold a large volume of food so that you don't have to refill them frequently. You'll still have to check daily to make sure that the seed doesn't wet. If it does, you might end up tossing more food than you would have if you purchased a small feeder that can be refilled every day.
Feeders with protective roofs can prevent some rain from getting in. You'll also want to make sure that the construction and location of the feeder don't make it accessible to other animals, such as bears, raccoons, and squirrels.
Types Of Bird Feeders
If you want to attract a particular kind of bird, you need to select the best bird feeder for that species. A variety of options are available to maximize your backyard bird-watching opportunities. The National Audubon Society says that every home should have a ground feeder, sunflower seed tube feeder, suet feeder, hopper, Nyjer, and nectar feeder.
1. Platform Feeders
Platform feeders are large trays that can be mounted on posts or suspended in the air. They can be placed close to the ground to attract birds that like to feed off of the insects and seeds in your lawn.
However, Birds Forever says that the open construction can bring in animals, including deer, chipmunks, and other hungry wildlife. You might want to use a platform feeder only when you can supervise it.
This may not be the best choice for someone with a busy lifestyle. Because the seeds will often fall out and collect under the feeder, you may not want to place this over your garden, or you'll be spending your time weeding.
These are the best bird feeders for attracting pigeons, starlings, house finches, jays, northern cardinals, song sparrows, and titmice. If you place them low to the ground, you may invite doves, juncos, towhees, and cardinals.
2. Tube Feeders
All About Birds says that tube feeders keep seeds clean and free from moisture. The tubes may be enclosed in plastic or mesh.
These tend to have small perches and openings, which attract more petite birds. Depending on the size of the access ports, tube feeders can bring sparrows, chickadees, titmice, grosbeaks, and finches to your yard. Larger birds, like grackles and jays, won't use them.
One of the downsides to tube feeders is that seeds can collect at the bottom of the tube, where the birds can't reach it. This creates a prime environment for breeding bacteria. Always empty out the old seed and clean the feeder before refilling it.
3. Finch Feeders
A Nyjer feeder is made to dispense thistle seeds. Only birds with tiny beaks, like goldfinches, redpolls, and pine siskins, can access the seeds. Some finch feeders don't have perches. This allows the birds to land and feed in any position they choose.
Squirrels don't tend to like this type of food. Therefore, they may stay away. If they don't, you can add a squirrel baffle to the feeder.
4. Window Bird Feeder
Window bird feeders let you closely observe the animals from the comfort of your home. They usually suction to the outside of your window.
The housing may be transparent so that you have a good view of the birds from inside. You can also keep a close eye on the food level and cleanliness of the feeder. Because birds sit in the seed while they eat, you'll need to clean a window feeder every day. These feeders are convenient and give you a unique view of your favorite birds.
Prevent birds from crashing into your windows by placing special decals on them. These reduce reflections that make birds think your windows are an extension of the sky.
5. Decorative Bird Feeders
The best bird feeder adds to the beauty of your garden décor. Most modern bird feeders are created with aesthetic appeal in mind.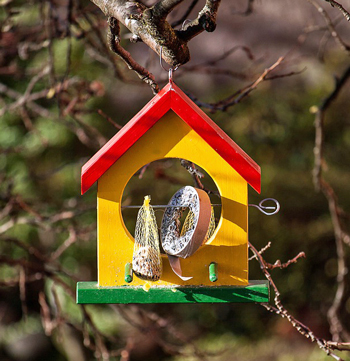 Many hopper bird feeders are made to look like charming houses.
They hold a lot of seeds and attract many types of birds, including house finches, jays, cardinals, titmice, grackles, buntings, red-winged blackbirds, and chickadees.
Hoppers can be perched on a pole or suspended. They require a squirrel baffle to keep out these persistent rodents. You should clean out a hopper and let it dry completely at least once a month.
6. Squirrel-Proof Feeders
If you have ever watched a bird feeding, you might have witnessed an excited squirrel trying to get in on the meal. Sunflower seeds, nuts, and suet are attractive to squirrels.
Although the rodents might seem cute at first, they can bully your birds. Some squirrels won't stop eating until the feeder is empty. They may also chew through your feeders. Squirrels can get into birdhouses, making your yard a scary place for nesting birds.
Metal feeders with thick, sturdy parts are particularly resistant to squirrel teeth. Some squirrel-proof feeders have platforms that are sensitive to weight. When a squirrel visits, the food access doors close automatically so that the animal can't get into it. Other protective feeders have slick plastic parts on which a squirrel can't stand.
7. Peanut Butter Bird Feeders
When you think of a peanut butter bird feeder, you might have images of pinecone designs that you made in preschool. Some manufacturers make feeders designed to hold nutritious peanut butter. Species that like nuts or suet will often be attracted to peanut butter.
This type of feeder will bring in chickadees, titmice, wrens, nuthatches, creepers, and woodpeckers. They may also invite jays, wrens, grackles, starlings, and bluebirds.
Peanut butter feeders may be the hardest to clean, especially if they're made of a porous material such as wood. Plastic or metal may be the best option. Mix the peanut butter with cornmeal or birdseed to make it thicker and less prone to sliding off the feeder.
If you make your own peanut butter feeder with a pinecone, you won't have to worry about cleanup at all. Just toss the pinecone when the birds have eaten all of the food. This is a great way to include the kids in your bird-watching.
8. Hummingbird Feeders
A hummingbird feeder provides liquid nectar that can be made from sugar and water. Hummingbirds aren't the only species that are enticed by sweet syrup. A garden bird feeder that holds nectar can attract orioles, tanagers, bees, and butterflies.
Avoid using anything except for white sugar to make the syrup. Other sweeteners, such as honey and maple syrup, don't have the proper ratios of nutrients. Red food coloring can harm birds.
To fill a hummingbird feeder, combine one part sugar to four parts water. Boil it for a few minutes to sterilize it and dissolve the sugar. Once it cools, fill your feeder with the solution.
Sugar can ferment and cause yeast to grow. The solution can also harbor mold and bacteria, so be sure to this type of feeder clean. Change out the nectar daily in temperatures above 85 degrees Fahrenheit. In temperatures between 60 and 70 degrees, you can empty and clean the feeder every four or five days. Make sure that you scrub the internal and external housing with a sponge or brush every time you swap out the solution.
Garden Bird Feeder FAQs
How Do Birds Know If There Is A Bird Feeder?
Some birds can smell food. Others can see it. Sprinkling a little bit of seed under a feeder can encourage birds to visit. Once they know that the food is there, local birds will return if you're consistent about filling the feeder.
Where Is The Best Place To Put A Bird Feeder?
To encourage birds to come to your yard, place a feeder in a safe place. If you put it near an active patio or the kids' play structure, birds might not feel comfortable visiting. Make sure a protective tree or shrub is 10 to 15 feet from the feeder. Birds can make a fast retreat if a predator is nearby.
Bird feeders should be hung near branches and trees to make the birds feel safe.
Put the bird feeder where the species that you're inviting would naturally eat. Suet feeders attract woodpeckers when placed on tree trunks or thick branches. Nectar feeders should be hung near flowers that attract hummingbirds.
If you want to watch the birds that visit, make sure that you have an unobstructed view of your feeders. A feeder that's placed in an open, sunny spot will also be easier for birds to find.
Many bird watchers are tempted to place feeders near windows. The types of feeders that attach to your windows may be the safest. When flying out, the bird will always head away from the glass.
How High Should A Bird Feeder Be Off The Ground?
If you need to drag out the ladder to refill the feeder, you'll be less likely to keep it clean and filled. A feeder that hangs from a tree should be six feet from the trunk or any limbs.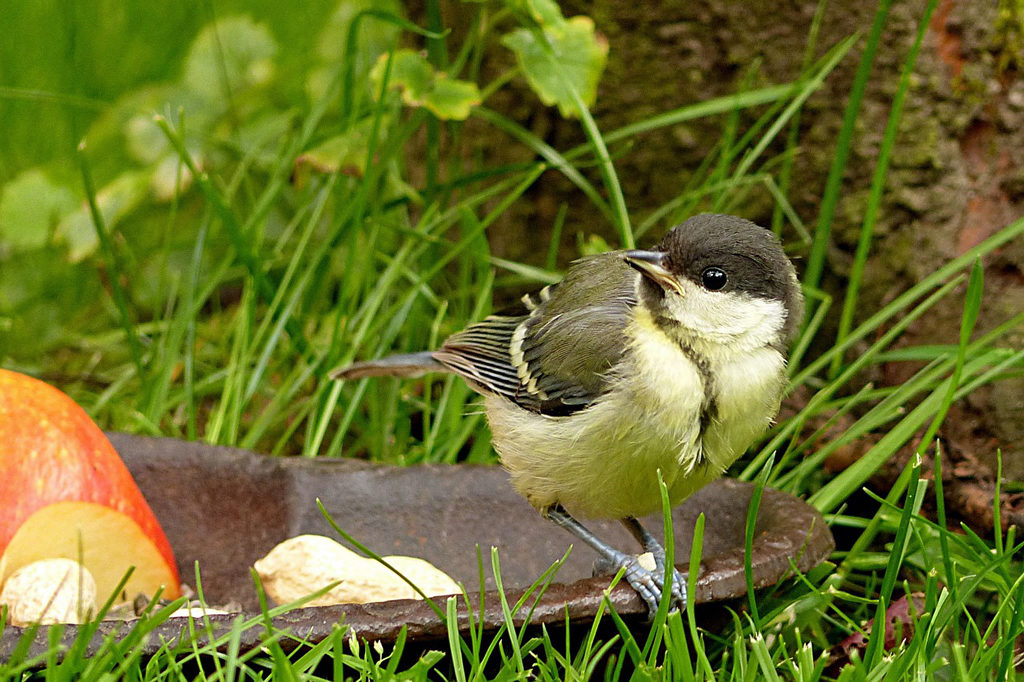 Hanging a feeder from a freestanding pole is another option. In that case, the pole should be at least five feet high and 10 feet from the nearest tree, fence, or roof. Keeping different feeders at various heights will attract a larger variety of birds.
If you want to keep birds flocking to your yard, you need to provide a consistent food supply. Offering a variety of food and different types of garden bird feeders will encourage diversity in the birds that visit your property. For the best bird-watching, consider placing many feeders throughout your yard.
Bring on the Birds!
Birdwatching is one of those hobbies that can be enjoyed at any age. While creating a bird-friendly garden is one way to encourage the birds to visit, adding a bird feeder will ensure that the birds keep coming back for years.